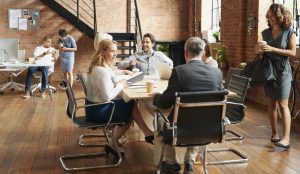 When considering making the move to a new or different business space, regardless of whether you want to lease or buy, you need to determine the physical size that you need. Where do you start? What do you need to look at to arrive at the best decision for your company?
Don't Break the Bank
First off, determining how much your business is able to pay out per month in rent or, if you think you may want to buy, how much equity to invest and what the mortgage payments, would be a crucial factor. While you want to have adequate space, limiting the size to what you really need will help keep costs down. Read our article Real Estate Dilemma – To Lease or To Buy? When That Is the Question.
What type of physical space do your employees need to operate most efficiently?
Depending on the type of business that you have, the type of space needed may differ greatly. Take a good look at your current space. What currently works and what doesn't work well? Making a list of what attributes you must have, what would be advantageous but not absolutely necessary, and what doesn't work well in your existing operation will help give a better visualization of what to look for.
Will you need a shared open space, private offices, or a combination of the two? A dense open floor plan with shared spaces is going to need considerably less square foot per employee as opposed to an operation with private offices. What kind of equipment do your employees need and how much physical space does it necessitate? What kind of layout will you need to maximize the potential of your physical space? Don't forget that storage room, meeting space (or spaces), and restrooms as well as a general reception area are also important factors. Engaging a professional space planner or architect to work with you and your real estate professional can expedite this process for you and make your search for new space more efficient.
Exterior considerations
The outside of the building deserves attention as well. Does the building project the image you want for your company? Having adequate parking for both employees and clients is something to take into account. Identify your current and future workforce size and how many visitors will be physically coming to your location is critical to selecting the best property for your business. Other factors to consider are proximity to restaurants and other amenities that are important to your workforce and clients.
Expansion considerations
Don't forget to look into the future. If you're planning on eventually expanding your operation, choosing a space that has potential for growth is an important consideration. It could help save you having to relocate again down the line, and save your business money in the long run. Other strategies such as shorter term leases and termination options may also be appropriate to handle growth needs.
Get the information you need
Engaging a company that specializes in helping businesses acquire the right office or industrial space will make the process a smooth one. Integrated Real Estate Solutions has been providing these services for over a decade.